14 Night Christmas & Cocos Keeling Islands Package

14 Nights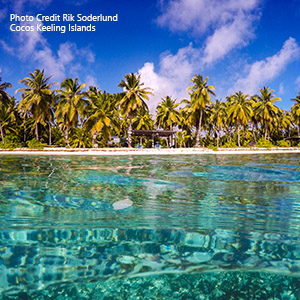 From
AUD$3,209
Price per person
Package Details
Overview
It's the news that we have been waiting for... On the 25th July, Mrs Natasha Griggs, Administrator of Christmas Island and the Cocos Keeling Islands announced that a travel zone between Western Australia, Christmas Island and the Cocos Keeling Islands is now in place. This means that residents from Western Australia can travel to this Natural Wonder! All visitors to Christmas Island must have been in Western Australia for a minimum 14 days prior to travel. There is no requirement to self isolate upon arrival at the islands or upon return to Perth, Western Australia.
Details
Welcome to Christmas Island, the wildlife paradise right on mainland Australia's doorstep that many have heard of yet few have visited.
Located just South of Indonesia, your Christmas Island holiday destination is just a short flight from Perth. With dense jungles, beautiful sandy beaches and crystalline blue waters, Christmas Island is a tropical paradise. The most famous of Christmas Island's tourist attractions is the unique annual red crab migration which occurs every year between the months of October and January. Truly a sight to behold, millions of these crabs make their way from the depths of the jungle down to the ocean to spawn, creating a spectacle that is rightfully one of nature's greatest events.
As well as the annual crab migration, there are plenty of opportunities to spot unique wildlife all year round. A haven for bird-watchers, Christmas Island has an abundance of lookouts perfect to spot frigatebirds, boobies and the golden bosun, amongst others.
Down in the crystal clear waters that offer comfortable year-round temperatures of 27⁰C, things get even more spectacular with brightly coloured fish darting amongst the pristine coral reefs. Snorkelling and scuba diving is breath-taking at any time of the year, and spinner dolphins and even whale sharks can be spotted between November and April.
Full of natural wonders, this remarkable island still feels like an undiscovered and unspoilt paradise. With glorious wildlife and a depth of culture and history to discover, Christmas Island is a place where unique travel experiences collide to create a trip you'll never forget.
If you like beaches, one of the best places to visit in Cocos Keeling Islands is Direction Island. Easily accessible by ferry, Direction Island is home to Cossies Beach which has been voted as number one in the 101 Best Australian Beaches! With 27 islands to choose from, it is no wonder that some of the top Cocos Island tourist attractions include various water sports such as kite surfing, wind surfing and of course traditional surfing. Even at the busiest times of the year the islands never become crowded which allow you plenty of room to learn the ropes, hone your skills and perfect your technique. You can also hire kayaks and stand up paddle boards, or get below the water to experience the phenomenal snorkelling on both coral reefs and wrecks which are brimming full of brightly coloured tropical fish. If you'd rather catch and eat your fish instead, the Cocos Keeling Islands also offer excellent fishing for bonefish, trevally, sailfish and tuna off the beach, jetty and boat.
When you are ready to take a break from the sandy shores and lapping water, make sure you take the ferry over to Home Island, where the heart of the Cocos Malay community live. Rich in culture and history, this is a wonderful place to learn how to do traditional weaving, try your hand at cooking Malay food and even join a cultural ceremony held in one of the homes across the island.
Inclusions
Return flights from Perth including baggag
Meet and greet on arrival at Cocos Keeling Island
7 nights accommodation on Cocos Keeling Islands
7 nights accommodation on Christmas Island
Car hire for 7 days on Christmas and Cocos Keeling Islands
Motorised canoe safari of Cocos Keeling Islands
Island Orientation Tour of Christmas Island
Guided Nature tour of Christmas Island
Travel Enquiry